---
Pfingstsonntag 22h
BOYAHKASHA! – BORN THIS WAY
DANCE HOUSE R N B DEEP HOUSE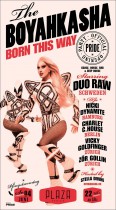 Bar ab 22h / Saal 22h
Ab 18 Jahren

Tickets: Vorverkauf CHF 30.- / Early Birds CHF 25.-

Abendkasse: CHF 35.- (ohne Gewähr)
Tickets: www.starticket.ch
STARRING:
DUO RAW (SWEDEN)
www.duoraw.com

DJs:
NICKI DYNAMITE (HAMBURG)
CHARLET C. HOUSE (BERLIN)
VICKY GOLDFINGER (ZÜRICH)
DENNIS SOMMER (MANNHEIM)
ZÖR GOLLIN (ZÜRICH)

HOSTED BY: STELLA DIVINE

www.twitter.com/Boyahkasha
www.instagram.com/boyahkasha
www.facebook.com/BOYAHKASHA
www.facebook.com/DjDennisSommer
www.facebook.com/NickiDynamitehh
www.facebook.com/vickygzurich
www.facebook.com/charlet.crackhouse
www.facebook.com/zoergollin




TICKETS:
www.boyahkasha.ch


Am Pfingstsonntag feiert die Boyahkasha wieder im Plaza ihre berühmtberüchtigte Pfingstparty. Am gleichen Tag startet auch das grösste innerstädtische Open Air Festival von Zürich mit der Pride Week sein Programm. Diese glückliche Fügung führt dazu, dass das beliebte Zürcher Partylabel auch in diesem Jahr der offizielle Host der Opening Party vom Zurich Pride Festival ist.

Um den wichtigsten aller queeren Anlässe gebührend zu eröffnen und zu feiern, fährt Boyahkasha ganz gross auf und holt alle verfügbaren Resident-DJs nach Zürich und hat wiederum das Plaza als Venue gebucht.
Das ganz grosse Highlight jedoch, wird die Show vom Duo Raw sein. Die beiden Ausnahmekünstler aus dem hohen Norden Europas sind für ihre äusserst exzentrischen Looks bekannt. Ihre Outfits entwerfen und schneidern sie alle selbst, was ihnen schon eine Fotoserie für die Vogue eingebracht hat. Egal wo man sie trifft, sie sorgen garantiert für Aufsehen und Stimmung.
Diese Nacht wird sicher um einiges bunter und ausgefallener als so manch andere Nächte im Plaza, aber ein wenig politische Würze darf natürlich auch nicht fehlen. Boyahkasha engagiert sich schon seit Längerem für die Ziele der Zürich Pride und freut sich darauf, wieder die Pride Opening Party ausrichten zu dürfen.
Be proud of who you are!
---