---
Samstag ab 23h
SHAKE! SHAKE! SHAKE!
HIP HOP R'N'B DANCEHALL AFRO BEATS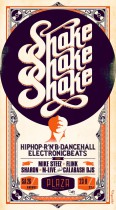 Bar 18h / Saal 23h
Ab 22 Jahren


DJs Plaza Saal:
MIKE STEEZ
FLINK
SHARON
M-LIVE

DJs Kosmos Floor:
Calabash - It's an African Thing


Hip Hop, Dancehall und elektronische Beats. Seit jeher Garanten, dass getanzt wird. Was das Zeug hält. Unser Resident DJ Mike Steez hat, wie es scheint, den Rhythmus in die Wiege gelegt bekommen. Er und seine Homies können daher gar nicht anders, als die fetten Hits und dicken Beats hervor zu holen und richtig gute Mucke machen.
Der Kosmos Floor steht ganz im Thema Afrika und Karibik. Afro Dance & Dancehall bringen eure Bootys zum Tanzen. Das Zürcher Label Calabash lässt euch die Rhythmen um die Ohren fliegen. Lasst uns feiern als ob es kein Morgen gibt.
Now, get off the wall and on your feet!
---